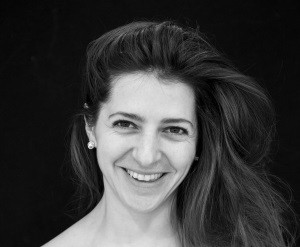 She started to study dance at 19 while she was studying  photography in Barcelona approaching improvisation classes with Mercedes  Boronat and Butoh classes with Andres Corchero.
At 23 she attended a professional school of contemporary dance in  Berlin where she started different collaborations with theatre's  directors and musicians.
In 2011, on her return to Italy, she began her dance research as a  choreographer under the tutoring of Claudia Diaz and Geraldin Pilgrim at  Ifa Academy Marche teatro.
In 2013 she won G'da prize for young Italian choreographers, with the  piece Allumin-io  starting  her personal research on objects in  relation to the movement.
In 2014, with the piece 'Legame' she won the audience award at the Danze  Oriente Occidente Festival in Rovereto.
In 2015 she won the Dna Appunti Choreographic award at the RomaEuropa  Festival with the piece Ra-me that allowed her to deepen the research  with the material, making the debut at the 2016 Venice Biennale.
Since 2011 Lara has been a part of the staff of A.F.I professional training  program as contact improvisation and contemporary dance  teacher and  she has been organising  monthly tango events since 2015
Her work is influenced by the artists she has worked with, including Virgilio Sieni, whom she assisted in choreography in Biennale di Venezia 2013, and Marina Abramovic, who she worked for as a performer in 2018 in the exhibition The Cleaner.
Improvisation and relation is the basis of her artistic and pedagogical  work, focused on listening deeply to oneself and the other, searching  for an authentic and personal work on movement.
In the last few years she has been working with live musicians and  sound designers, performatively living different spaces besides theatres,  and interacting with nature and architectural spaces.