FORSYTHE INTENSIVE
DUO2015
By Brigel Gjoka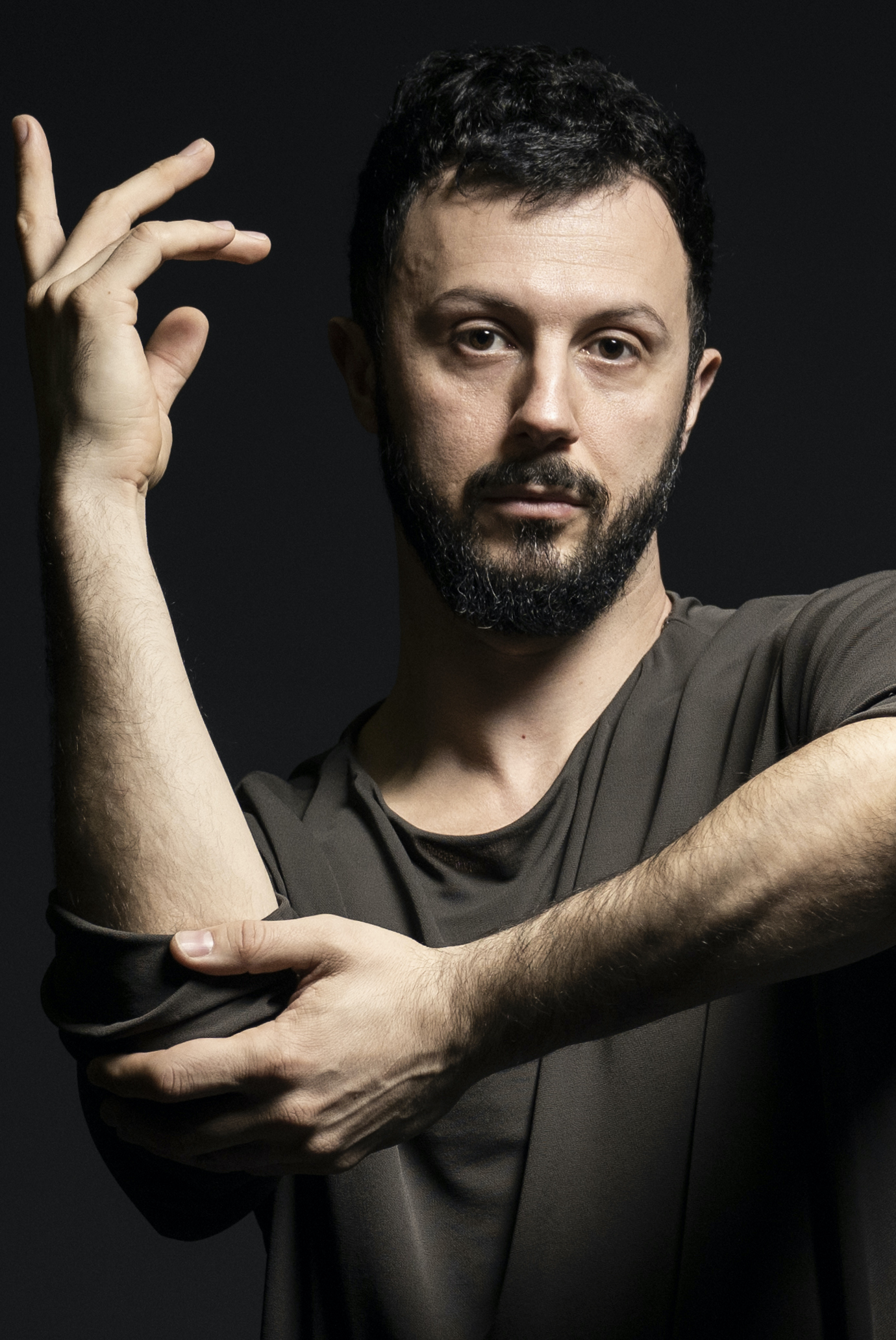 Brigel Gjoka, former dancer of The Forsythe Company, practicing for long time, are face to the practice of entrainment as a form of progressive work, reaching a level of interrogation on how connections, composition, rule breaking and listening can create a dialogue between individuals.
The work will be focused on explaining and exploring how connections can be acquired through entrainment. "DUO2015" is the latest work of William Forsythe in which both artist are facing and confronting each other in constant research for new dimensions of being creative.
Raised in New York and initially trained in Florida with Nolan Dingman and Christa Long, Forsythe danced with the Joffrey Ballet and later the Stuttgart Ballet, where he was appointed Resident Choreographer in 1976. Over the next seven years, he created new works for the Stuttgart ensemble and ballet companies in Munich, The Hague, London, Basel, Berlin, Frankfurt am Main, Paris, New York, and San Francisco. In 1984, he began a 20-year tenure as director of the Ballet Frankfurt, where he created works such as Artifact (1984), Impressing the Czar (1988), Limb's Theorem (1990), The Loss of Small Detail (1991), A L I E / N A(C)TION (1992), Eidos:Telos (1995), Endless House (1999), Kammer/Kammer (2000), and Decreation (2003)
After the closure of the Ballet Frankfurt in 2004, Forsythe established a new ensemble, The Forsythe Company, which he directed from 2005 to 2015. Works produced with this ensemble include Three Atmospheric Studies (2005), You made me a monster (2005), Human Writes (2005), Heterotopia (2006), The Defenders (2007), Yes we can't (2008/2010), I don't believe in outer space (2008), The Returns (2009) and Sider (2011). Forsythe's most recent works were developed and performed exclusively by The Forsythe Company, while his earlier pieces are prominently featured in the repertoire of virtually every major ballet company in the world, including the Mariinsky Ballet, New York City Ballet, San Francisco Ballet, National Ballet of Canada, Semperoper Ballet Dresden, England's Royal Ballet and The Paris Opera Ballet.
Awards received by Forsythe and his ensembles include the New York Dance and Performance "Bessie" Award (1988, 1998, 2004, 2007) and London's Laurence Olivier Award (1992, 1999, 2009). Forsythe has been conveyed the title of Commandeur des Arts et Lettres (1999) by the government of France and has received the Hessische Kulturpreis/Hessian Culture Award (1995), the German Distinguished Service Cross (1997), the Wexner Prize (2002), the Golden Lion of the Venice Biennale (2010), Samuel H Scripps / American Dance Festival Award for Lifetime Achievement (2012) and the Grand Prix de la SACD (2016).
Forsythe has been commissioned to produce architectural and performance installations by architect-artist Daniel Libeskind (Groningen, 1989), ARTANGEL (London,1997), Creative Time (New York, 2005), and the SKD – Staatliche Kunstsammlungen Dresden (2013, 2014).  These "Choreographic Objects", as Forsythe calls his installations, include among others White Bouncy Castle (1997), City of Abstracts (2000), The Fact of Matter (2009), Nowhere and Everywhere at the Same Time No. 2 (2013) and Black Flags (2014). His installation and film works have been presented in numerous museums and exhibitions, including the Whitney Biennial (New York, 1997), Festival d'Avignon (2005, 2011), Louvre Museum (2006),  Pinakothek der Moderne in Munich (2006), 21_21 Design Sight in Tokyo (2007), Wexner Center for the Arts, Columbus (2009), Tate Modern (London, 2009), Hayward Gallery, (London 2010), MoMA (New York 2010), ICA Boston (2011), Venice Biennale (2005, 2009, 2012, 2014), MMK – Museum für Moderne Kunst (Frankfurt am Main, 2015) and the 20th Biennale of Sydney, 2016.
In collaboration with media specialists and educators, Forsythe has developed new approaches to dance documentation, research, and education. His 1994 computer application Improvisation Technologies: A Tool for the Analytical Dance Eye, developed with the ZKM / Zentrum für Kunst und Medientechnologie Karlsruhe, is used as a teaching tool by professional companies, dance conservatories, universities, postgraduate architecture programs, and secondary schools worldwide. 2009 marked the launch of Synchronous Objects for One Flat Thing, reproduced, a digital online score developed with The Ohio State University that reveals the organizational principles of the choreography and demonstrates their possible application within other disciplines. Synchronous Objects was the pilot project for Forsythe's Motion Bank, a research platform focused on the creation and research of online digital scores in collaboration with guest choreographers.
As an educator, Forsythe is regularly invited to lecture and give workshops at universities and cultural institutions. In 2002, Forsythe was chosen as one the founding Dance Mentor for The Rolex Mentor and Protégé Arts Initiative. Forsythe is an Honorary Fellow at the Laban Centre for Movement and Dance in London and holds an Honorary Doctorate from The Juilliard School in New York. Forsythe is a current Professor of Dance and Artistic Advisor for the Choreographic Institute at the University of Southern California Glorya Kaufman School of Dance
WHEN?
From 28th to 29th October 2023
time: 10am to 3pm
REGISTRATION
Please send email to:
artfactoryinternational@gmail.com
WHERE?
Art Factory International
Via della Casa Buia 4/A Bologna
Italy