Jiri Kylian Repertory
by Valentina Scaglia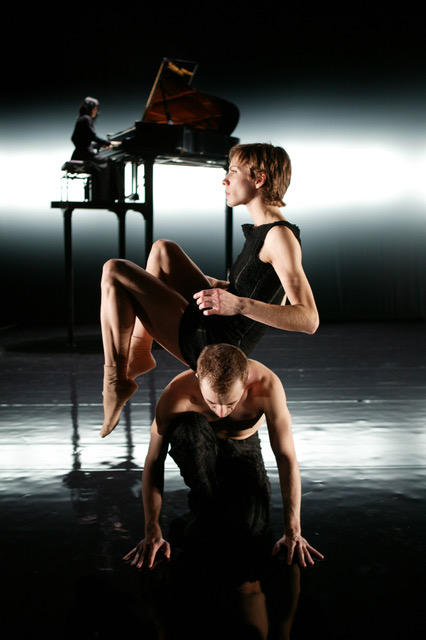 Valentina begins her dance education in Torino, Italy at the Studio Danza Narcisa where she studied for 10 years. In 1995 she participates at the Prix de Lausanne and wins the 'Prix Espoir' and a Scholarship (Pierino Ambrosoli Foundation) for the Hamburg Ballett School where she finishes her dance studies until 1997.
She joins then The Hamburg Ballett under the direction of John Neumeier and dances for 3 years the repertory of the company.
In 2001 Valentina joins the Nederlands Dans Theater II and three years later Nederland Dans Theater I where she worked until December 2013.
In 2008 she is nominated for the "Zwaan" for the best female dancer (prestigious Dutch Award).
In NDT she had the possibility to work and create with choreographers such as Jiri Kylian,Paul Lightfoot/Sol Leon, Hans van Manen, Johan Inger, Wiliam Forsythe, Mats Ek, Ohad Naharin, Wayne McGregor, Crystal Pite among many others.
Working with all these big names and as well working with collegues and with her husband, Lukas Timulak, she has the opportunity to grow and to always keep  searching and discover new and inspiring worlds as an artist and as a human.
She is mother of two beautiful daughters.
During the last years she has being coaching and teaching NDT repertory and worked on few freelance dance projects as well as teaching young kids the magic gift of dance as an expressive mean.
After few years of studies and practice she is a certified trainer for the GYROTONIC® and GYROKINESIS® method and keep deepening her education with additional specialized courses.
WHEN?
From 14th to 15th March 2020
time: 10am to 4pm
REGISTRATION
Please send email to:
artfactoryinternational@gmail.com
WHERE?
Art Factory International
Via della Casa Buia 4/A Bologna
Italy