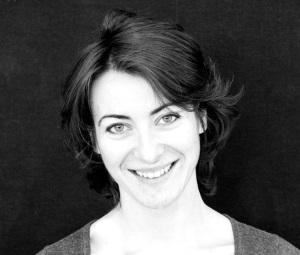 Gioa Maria was born in Urbino in 1983, her formation in dance developed mainly in Paris, Milan and Venice. In Paris she studied in La Mènagerie de Verre and in the studio Peter Gross. She graduated in Philosophy with a maximum of votes with her thesis "The collage in the theatre of dance of Pina Bausch" with the University of Bologna. She formed on a professional level in contemporary dance in Milans AccademiaDanza directed by Susanna Beltrami. Here she created a research group with which she participated, receiving different reviews. With "Things", the creation of 2008, she gets selected and participates in Choreographic Collision Part II and III, the Biennale of Venice in collaboration with Association DanzaVenezia. She holds a series of workshops in Milan of compostions of choreography for the third year of Professional Training Program of AccademiaDanza.
In 2010 participates in ArsenalDanza, directed by Ismael Ivo, La Biennale di Venezia. In Venice she studied and participated in performances with various artist, amongst which some are Marie Chounard, Jasmeen Godder and Itzik Giuli, Francesca Harper (Ballet Frankfurt, William Forsythe), Kenji Takagi (Wuppertal Tanztheatre, Pina Bausch), Geyvan McMillen and Tan Temel (Istanbul Dance Theatre), Jose Navas (Compagnie Flak), Daniel Lèveillè Dance Company, Inak Azpillaga (Ultima Vez/W. Vandekeybus) and with a Japanese maestro Ryuzo Fukahara.
From 2011 she regularly teaches contemporary technique and holds workshops in choreography for the professional formation course Dance Start Up, in Leggere Strutture in Bologna. For many years she works regularly in the Compagnia Artemis Danza di Monica Casedei, with multiple tours in Italy and abroad. Currently she works for the Zappalà Danza company of Roberto Zappalà in Catania on productions of 'Invenzioni a tre voci' and 'La Nona' and she has been invited to teach a Modem professional course of 'Scenario Pubblico'.