A.F.I SUMMER
Dance Program June 2017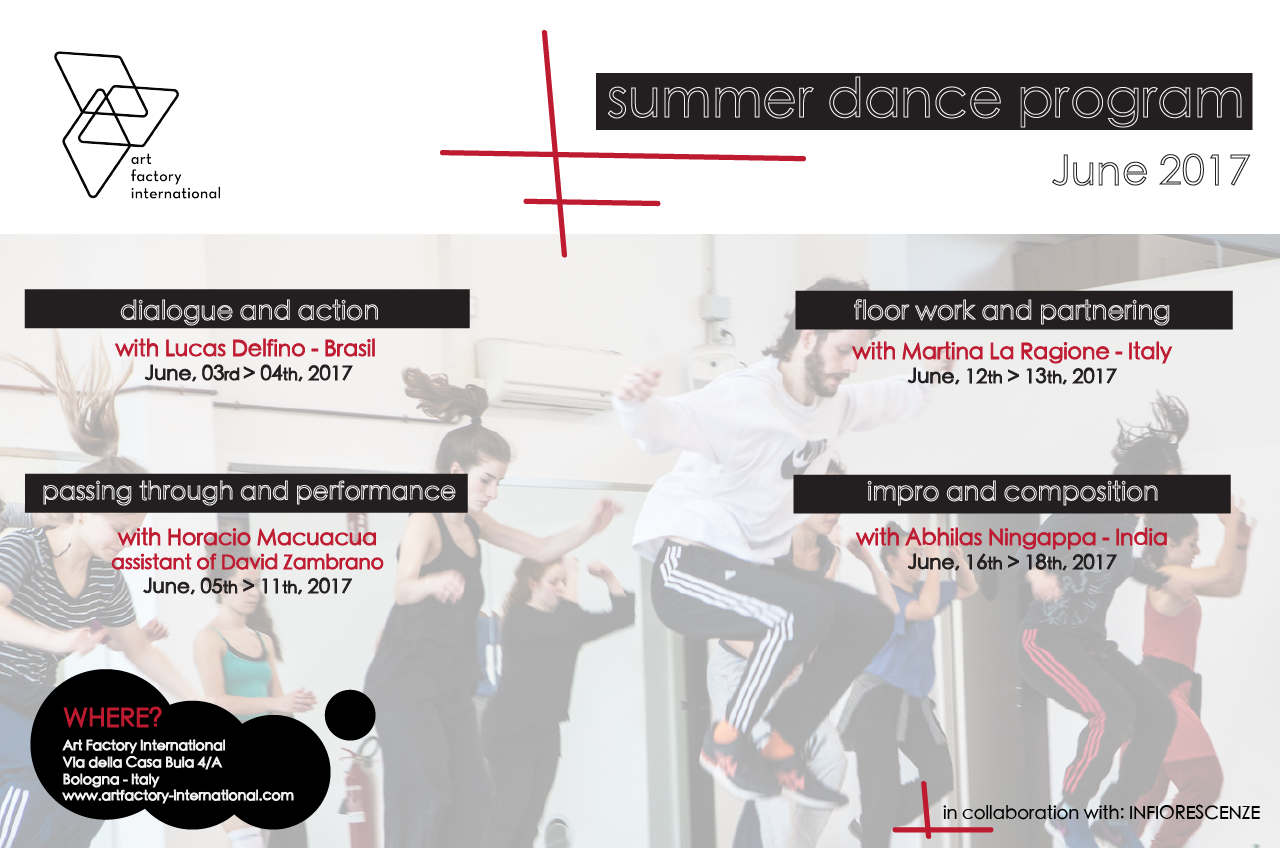 with Lucas Delfino
From June 03rd > 04th, 2017
For an effective communication with a witness body, the artist / performer must establish a conscious internal dialogue. The study and creation in dance can be seen as a continuous generation of feedback, a conversation with ourself, irrational in a way, but sensitive.
The clearer this dialogue gets, the greater becomes the inventive potential and the mastery over what and how you want to communicate.
One's body and the constant discovery of the infinite possibilities of the physical structure become a creative self-propulsion mechanism that allows you to process the movements, the intentionality and energy modulations to produce new movements, intentions and other variety of energy modulations.
The purpose of this practice is to work towards the development and exploration of technical tools to deepen this self-communication strategies and reveal personal strategies and production of movement, following some basics principles, including:
amplification of the perception and use of the feet, axle, the weight of the body segments and the force of gravity,
use of the floor and of the surrounding space as a support and bodily extension,
quality of segmentation and fluidity,
work on the surface and the volume of the body including the skeletal and organic structure.
The participants will be brought to this research through exercises derived from various techniques such as Qi Gong (Chinese practice of self-care), the Japanese No theater, the Body- Mind Centering (technique that offers an integrative look between anatomy, physiology and creativity) and individual and collective improvisation exercises.
LUCAS DELFINO graduated in 2012 in Dance at the UNICAMP (State University of Campinas, Sao Paulo). He studied under the guidance of maestros Holly Cavrell (Martha Graham Company, Paul Sanasardo Company and 5 X 2 Plus Dance Company), Angela Nolf (National Ballet of Israel), Graziela Rodrigues, Eusebio Lobo, Inaicyra Falcão, Marisa Lambert, Marília Vieira, Adriana Almeida Pees, Julia Ziviani, Sayonara Pereira, Luiz Fernando Bongiovanni.
Also in São Paulo, in 2013-2014, he studied physical therapy practices such as Qi Gong and Liam Gong at the school of Chinese teacher Maria Lucia Lee and undertook a research on the No Theater and Buto with teacher Key Sawao.
In 2016 he completed the training course at Art Factory International Dance Start Up directed by Brigel Gjoka, in Bologna.
He currently works with Artemis Dance Company directed by Monica Casadei in the performances "La Traviata" and "Carmen K".
In 2016 he worked with choreographer Lara Russo in the shows "Papelao", produced as part of the sharing experience of the TIR Danza and presented to AltoFest HangartFest festival in Naples and in Pesaro, and "Ra-me" performance received the award from DNA Appunti coreografici and debuted at Biennale Danza in Venice, later presented at the Teatro Grande in Brescia, Teatro Duse in Bologna (in the context of the Gender Bender Festival), the Teatro India in Rome at Romaeuropa Festival and in Cantiere Coreografico in Florence in Democrazia del Corpo Festival.
In 2015, after a residence of three months in Musiberia (International Center of Music and Dances of Iberic World), in Serpa – Portugal, he created and presented the solo show "Entoador".
Dancer of the Brazilian company Perversos Polimorfos (São Paulo) since 2012, under direction of Ricardo Gali, he has worked as a performer and creator in the productions.

with Horacio Macuacua
Assistant of David Zambrano
From June 05th > 11th, 2017
Passing Through
In the making of movement compositions, Horacio focuses on creating and developing the dynamics for complex systems to present leadership in the form of a group web. The group will create dynamics that will be flexible, complex, getting the group to fit tight together, yet always keeping doors open for the unpredictable. The group moves constantly, transforming the environment of the dance.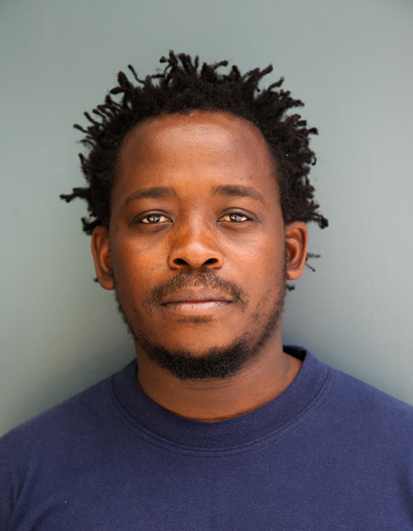 HORACIO MACUACUA
The Mozambican dancer and choreographer is the artistic director of the dance company which bears his name. Having no aesthetic limitations the company develops projects that are open to the creativity of all the collaborators. He has carried out the projects: M <> 3L = COMUM, Canais, Orobroy, Stop! (1st Prize and Puma Creative Prize at Danse l'Afrique Danse Festival 2010), Smile If You Can!, Fighting room and Paradise is not in the sky…!
Horacio is a founding member of Culturarte, the first contemporary dance company of Mozambique. He has collaborated as dancer and creator with choreographers Cristina Moura, Thomas Hauert, Pablo Colbert, George Khumalo and David Zambrano, considering him his maestro and mentor.

with Martina La Ragione
From June 12th > 13th, 2017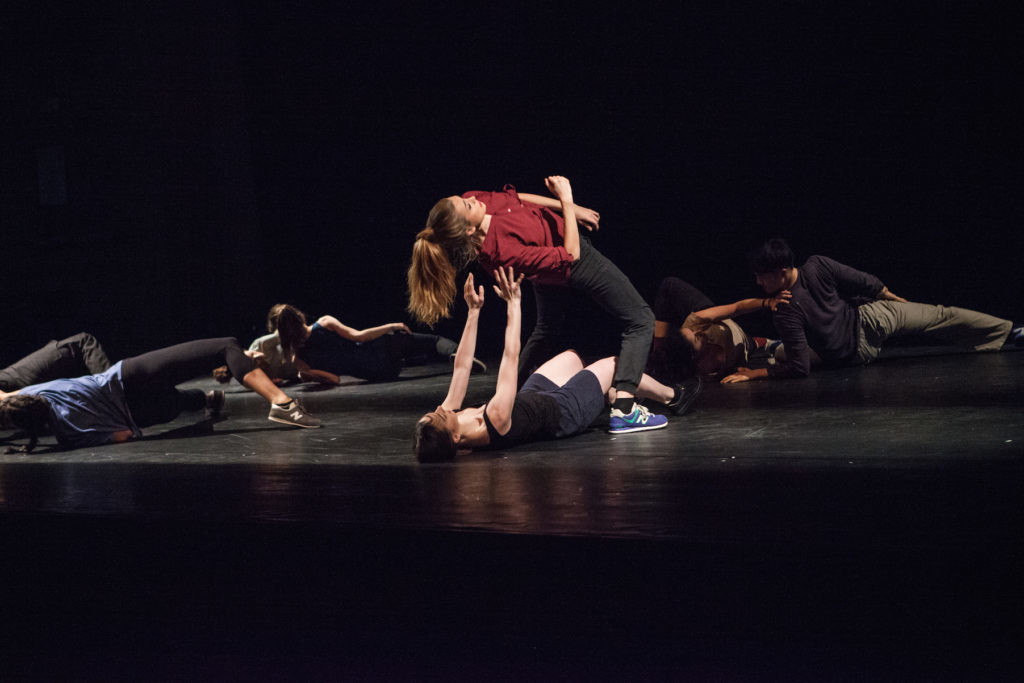 Floorwork: The work focuses on dynamic of the spiral and the knowledge of the anatomical basis following the model of the skeletal structure, learning all its limitations and possibilities and to use them for the benefit of the move- ment on the floor through space. Consciously directing the energy from the center to the extremities and joints, it is possible to release and to take back the weight of the body in a continuous "drop-balance game" using the levers, the pressure on the supports and acceleration. The floor becomes the material not only to be rejected but also material on which indulge, relax and lean on. There will be a focus on going through the space without ever forgetting that it is not only composed of one "air" space, but also by a "solid" space, the ground, the floor, the earth: a material which we deal with on a daily basis and with we are bound with by the gravity.  Taking advantage of the gravity principle to get on and off the ground, gaining and losing the vertical position, moving nimbly the body weight through various levels and directions. The study of the floor work can be considered as a pre-contact: the floor is understood as a "partner" a first step towards the knowledge of own weight to then be able to get in contact with others.
Partnering explores, together with floorwork as closely linked, physical contact not only with the floor but especially with a real partner.
The focus is to learn how to manage your weight with that of another body moving through simple sequences of holds using the principles of levers and accelerations learnt with floor work. Ultimately it will be possible to get in touch with the most intimate space, the one between our own body and the partners'. Principles learned will be used to benefit the choreographic composition.
Martina started classic dance studies at Centro Artistico Metese directed by Patty Schisa. She then started practicing contemporary dance with Teri Weikel and abroad with Ivan Wolfe, Frey Faust, Janet Panetta. From '93 to '97 she danced in all the productions from TIR Danza company in Modena, directed by Teri Weikel.
From '99 to '02 she worked with Carolyn Carlson in Biennale di Venezia company for the productions: Light Bringers e J.Beyus Song. She worked in Germany for the Palindrome dance com- pany by Robert Wechsler. She started her career as choreogra- pher by creating two solos Soloperdue e Long Necked Chicken. She performed abroad in duo, collaborating with Valentina Bul- drini in I sold my fur coat in the project Choreoroam. From '09 Martina is a member of Deja Donne company by Simone San- droni and Lenka Flory. She assists Simone Sandroni on the choreography for Das Mädchen und der Messerwerfer for the Bayerische Staatsballett and works as choreographer for spe- cial youth programs in two high schools in Munchen, Anna Tanz and Heirinch Tanz. Those programs were directed by Bayeri- sche Staatsballett. In '11 she shared the award "Premio Equi- librio" with Valentina Buldrini at the Roma Europa Auditorium, thank to the duo Will, also selected as a project at the Fringe Festival in Edinburgh and the NID Platform 2014. In '13 and '14 she performed in Parsifal directed by Romeo Castellucci at Teatro Comunale in Bologna with choreographies by Cindy Van Acker.

with Abhilash Ningappa
From June 16th > 18th, 2017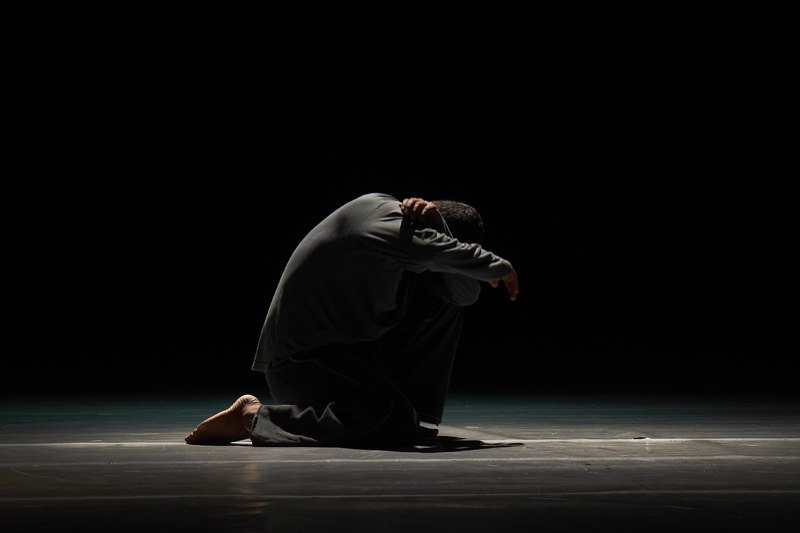 This Workshop is focused on Improvisation working on fundamentals like breath, speed and energy, involving the core structure of the body influenced by different methods of kalari payattu and other martial arts combined, focusing mainly on dancers relationship with the space and the people around.
The practice is about identifying our way of expressing into certain situations like a moment of confrontation, dealing ,accepting and mainly reacting. Inventing a score to create an incident and let the body react and mind follows and other way around. Using senses to provoke emotions created through incidents. Identifying the space filled with accumulated information through movement and research.
We experience reaction through various tasks and scores, to disengage mind from body and observing the reaction of body, recollecting or replaying the incident and to identify it with a new perspective, the new is nothing but a combination of various memories played in different time and space which is changing and passing every moment. Bringing feeling and letting the body occupy and transfer, letting it pass in order to give space for the next incident. Running from incident to incident, going through different emotional state, identifying the presence and absence, and identifying the state of mind and body through these different emotional state.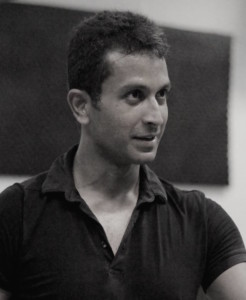 Abhilash Ningappa is born in India. Performer, teacher and choreographer working in India and Europe. He post graduated in SEAD (Salzburg) and Post Masters in APASS (Advanced performance and scenography studies) (Belgium) on a movement research project called PLAY PRACTICE .  A yoga practitioner and a martial art teacher, trained in kalari payattu and contemporary dance, started his training in India and later travelled in India and Europe working and practicing. He worked with La Caldera (Spain), Nunart (Spain), Royal Conservatoire Antwerp (ARTESIS, Antwerp), I-dance(Hong Kong), Ibiza Contact Festival(Spain), and has been teaching professional classes in Dock 11 (Berlin),Dansehotel (Malaga), Residency in PARTS (Brussels), Le chien Perdu (Brussels), Lovein(Canada),Dance Identity (D.ID)(Austria),Danskias (Vienna), and Association of professional dancers (Ireland).
He organises Play Practice Apprenticeship program, Goa Scholarship Program, Improjunction Scholarship Program, as well as residencies for artists who are visiting India as well as young artists from India.
He worked with choreographers such as Constanza macras in "Back to the present" and " The past" , Katie Ducks Improvisation performances, Tania Carvalho In "Icosahedron", Rex levitates Dance Company (Ireland). "Bodies in urban spaces" by Willie Dorner, Reinhild Hoffman in " Pro Choreo Laboratory", Ka fai in " what i think about when i think about dancing" and Nuni Lazaga "To dream or not to dream"
His choreography work involves "Architect of self destruction" performed in Ibiza movement and performance Festival, " No Speaking Solo" Performed in Isadora Festival in Russia, "Too far east is west" duet performance with Carla Guida Johnson, "Disposable Heroes" with Bangalore Dance Collective, "Troubled Duet" in Bangalore international dance festival, He presented a lecture performance called 'Life Unedited" and performed 15 solos choreographed by all participant choreographers called "15 pieces " concept by Daniel kok, in the frame of an exchange program called "Point to point" by Asia Europe Dance Forum supported by Asian Europe foundation,"Lets Make Up India" in Zurich.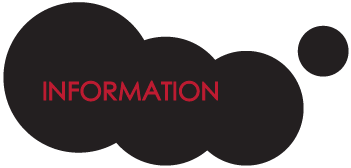 LUCAS DELFINO > From 03rd to 04th June
HORACIO MACUACUA > From 05th to 10th June + Urban Performance of Passing Through on 11th June
MARTINA LA RAGIONE > From 12th to 13th June
ABHILASH NINGAPPA > From 16th to 18th
ART FACTORY INTERNATIONAL
Via della Casa Buia 4/A
Bologna 40129 – Italy
Registration by 15th May
A.F.I Summer fee: 250€
---
Workshop fee:
Lucas Delfino cost: 45€
Horacio Macuacua: 110€
Martina La Ragione: 45€
Abhilash Ningappa: 80€
Registration after 16th May
A.F.I Summer fee: 290€
---
Workshop fee:
Lucas Delfino cost: 55€
Horacio Macuacua: 130€
Martina La Ragione: 55€
Abhilash Ningappa: 95€
Please send email to: artfactoryinternational@gmail.com